Pittsburgh Location Sound Recordist / Sound Mixer / Boom Operator / Production Sound
I have a passion for capturing location sound for video projects, commercials, documentary videos, and narrative films, in and around the Pittsburgh area.
If you are a corporate videographer or a filmmaker looking for a quality production sound person, boom operator, sound mixer, or sound recordist, please drop me a line or give me a call at 412-232-4444  You won't be sorry…
Testimonials
I have had the pleasure of working with Michael both as a fellow crew member on numerous productions and as a director. All I have to say is wow this man is beyond talented, is professional, and has a fun personality. I look forward to working with Michael on future projects! – Shay Francis
I've had the pleasure of working with Michael Ray on three (3) films to date.  Each time I've found him to be extremely prepared, professional, and knowledgeable.  His equipment is high quality, state of the art, "Hollywood" level, and the resulting audio product is top of the line.   I wouldn't hesitate to call Michael for future projects. – Dayne R. Jefferson
Michael's work on our project was fantastic, he delivered great sound for us even in a very challenging environment. He's extremely knowledgeable and a great personality to have in the team. Michael has a positive attitude to problem solving and went above and beyond to help our production run as smooth as possible. – Luke White / Boxclever Media Ltd
Michael was a total pleasure to work with on our web-series Slick Tommies. As things tend to go with indie shoots, he was able to keep up and roll with the myriad changes that happened on a daily basis. He always asked the right questions so that he was ahead of the game, having actors wired in advance, knowing frame lines before cameras roll, and keeping production in the know whenever there were any technical issues. As a producer putting out constant fires and picking up the job duties of any crew members we were lacking, I was happy and comforted to know that the quality of our sound was safe in Michael's hands. – Stephen Turselli "Producer/Director, Solano Pictures LLC"
Michael is a true asset to any production. Having worked with him on several film projects, I have seen firsthand the quality of his work. He handles himself professionally on set and delivers nothing but excellent sound. Michael is the first choice for RedSlate Films when it comes to sound for our productions. – Brian Ceponis
I've worked with Michael on a number of occasions, on many different types of sets. He was always prompt, professional, kind, and had the highest quality of sound. His equipment is top notch and he's extremely easy to work with. He makes any situation work, and he's a great personality that will add to any set. I recommend him to anyone in the film business.  – Jason Burke
"The sounds Michael recorded for my film was clean and clear. Different layered tracks give me the option to accent sounds when I want, a luxury most sound recordists don't offer. He's definitely my go to anytime I need professional sound for my film!" – Jeremy St. Hilaire
Michael Ray, Sound Mixer, Boom Operator and so much more. He is a delight to work with and brings years of experience to the table and not just in the sound world. Michael is definitely a people person full of passion and ambition. He has a strong desire to succeed and is always willing to go the extra mile. His expertise in Lighting also helps him understands where to place the boom to get the best sound and not interfere with the lighting design. I feel privilege to have Michael Ray in my network and would welcome him on any production or team.  –  Travis Culley
Michael Ray is fantastic to work with. He knows what he's doing and always acts professional. He can think on the spot to get you exactly what you need. He worked on a project, and I needed the room to look like something was on fire, he quickly had an idea and solved that problem. He will be the person I go too for every project – Jesse Hutchins "Hutchins Films / RedSlate Films"
I have worked with Michael Ray on two separate occasions now.  On each project, he brought a professionalism and knowledge that listed the entire project, and especially the sound. Even though they were small projects, he consistently gave his best effort. His value as a sound recordist is truly great. – Nick Clark
After working repeatedly with Michael, I'd recommend him to any production looking for someone experienced in capturing clean, professional sound. – Trey Chadwick
---
Here is a list of location-audio film projects that I've been involved with as a sound recordist or sound mixer, starting with the most recent.
Hell in a Handbasket (short) Tanisha Jackson
Living With A Luchador (short video) PJ Gaynard
Rigor Mortis (short film) Ryan Bogdewic
Quietus – (3K film project) Red Slate Films
Straight and Narrow – (short video) Red Slate Films
Landforce (documentary) – Michael Skinner
Slick Tommies – (web series) Stephen Turselli
Treasure Island (short film) 2820 Productions
Steps (short film) (48-hr film project) 2820 Productions
Jack and the Treehouse (feature) James Schneider
Decisions (short film) Darrel Pullie
Girls Will Be Girls (short film) Shay Francis
VHS Project (short film) Shay Francis
Monkeyfication (short film) Nick Clark
Niagra Falls (short film) Dayne Jefferson
A Step Toward Recovery (short film) Eric Overson
Grave Encounters (short film) Jason Burke
Done Waiting (short film) Hutchins Films
Planetarium (short film) Brenna Power
Jack and Diane (feature film sizzle) Jackson McKeehan
Ineraticability (short film) Joseph Stone
Litchfield (feature film) Franco Pinacchio
The Caper (feature film) Mike McKown
Waking Moments (3K short film) Hutchins Films
Adventures of Betty (web series) Joel Rosenthal
The Autumn People (short film) Brian Cottington
A Black Top Canvas (short) Adam "Ajay" Crawford
Beth (short film) Hutchens Films
Street Voices (feature film) Jeremy St Hilaire
Life For Death (short film) Nick Clark
Christmas in July (short film) (48-hr film project) Hutchins Films
Waiting on Words (short film) Joseph Chadwick III
Here are a few corporate videos I've been involved with, capturing location sound, and on some, doing the lighting too.
HBK Corporate Video (lighting and location sound mixer)
Near Shore Technology Corporate Video (lighting and location sound mixer)
Our Club House Nonprofit Video (lighting and location sound recordist)
Ansys Corporate Video (lighting and location sound)
The Ellen Show (game show) – (production sound / boom operator)
Pall Corporate Video (production sound)
Duolingo Recruitment Video (production sound)
Reality TV – about building houses (sorry, I had to sign a DNA agreement)
Casual Films Corporate Video Shoot (production sound)
Philips Respironics Vector Product Video (production sound and lighting)
Respironics Trilogy Video – Katie Interview (sound and lighting)
Duolingo April Fools Day video (production Sound)
Pittsburgh Modeling and Acting FAQ (production sound and lighting)
Menard Step-up Campaign (production sound)
Maverick Dental (production sound and lighting)
CMU Black History Month video spot (Kameron Neal Kierce) (production sound)
Westinghouse CEO video (production sound and lighting)
Westinghouse Raise the bar video (production sound and lighting)
Philips Respironics – Series of three videos to support new product launch (production sound and lighting)
---
Here is a list of my location sound equipment:
As you can see, I have very professional equipment and I'm pretty much ready for any location sound recording assignment.
Sound Mixers / Recorders
Sound Devices MixPre-10T
Sound Devices MixPre-6
Zoom H-1
Boom / Shotgun / Interview Mics
Sennheiser MKH 50
Rode NTG-3
Sennheiser MKE 600
Rode Video Mic Pro
Rode Reporter
Rode NT-USB
Wireless Transmitters / Receivers (7 channels)
Lectrosonics SRC Receiver
Lectrosonics LT Transmitters (2)
Sennheiser G4
Sennheiser G3
Rode News Shooter (2)
Rode Video Maker
Lav Mics
Sanken CSO 11D (5)
Rode Lav (2)
Sennheiser ME2 (2)
Time Code
Tentacle Sync E (3)
Sound Devices MixPre-10T (Internal)
IFB
Comtek FPM-216 (1 Transmitter – 2 Receivers)
Camera Hops (If not in use as wireless)
Sennheiser G4
Sennheiser G3
Rode News Shooter (2)
Misc Location Sound Equipment
K-tek Boom Poles (2)
Rode Blimp and Dead Cat
Rycote Baby Ball Gag Windshield & Dead Cat
Orca sound bag (2)
Vocal Booth Sound Blankets (6)
RockenRoller as Sound Cart
---
Production Sound Recordist Photo Gallery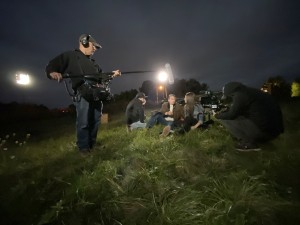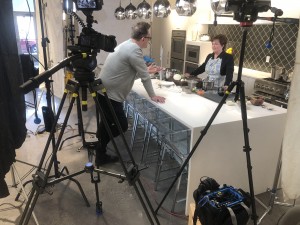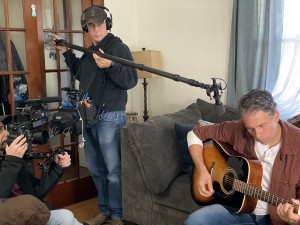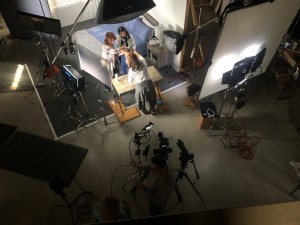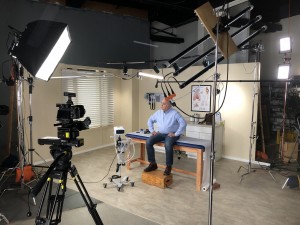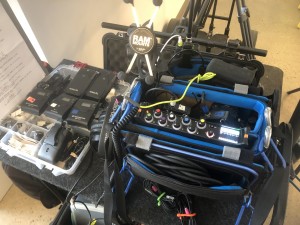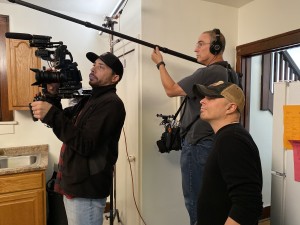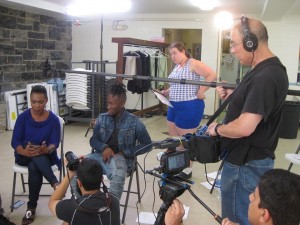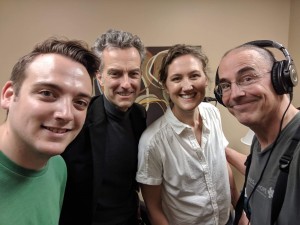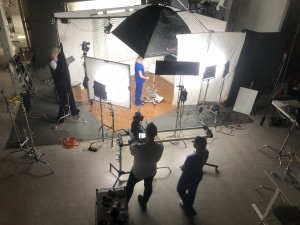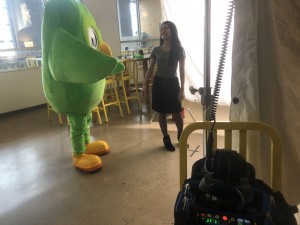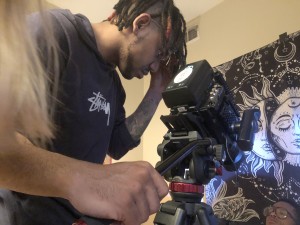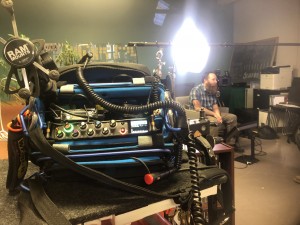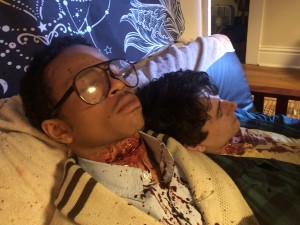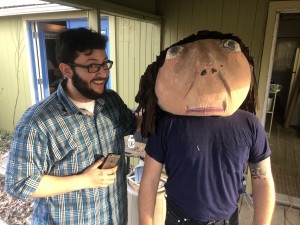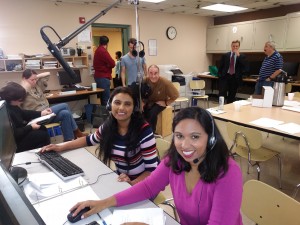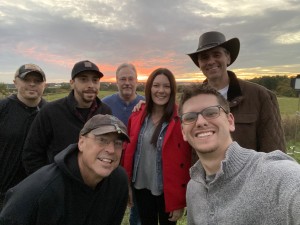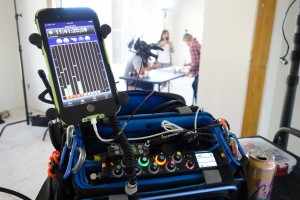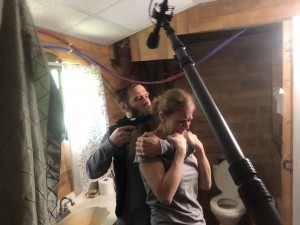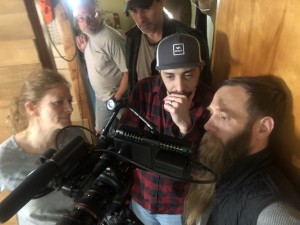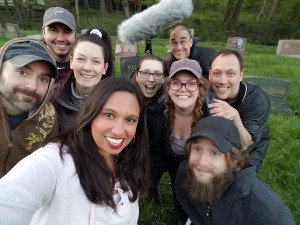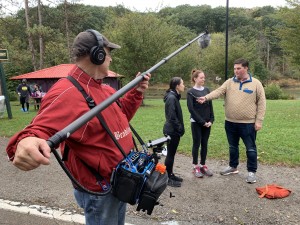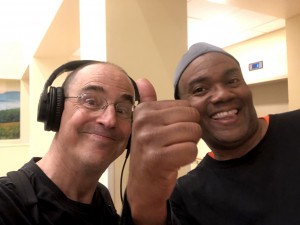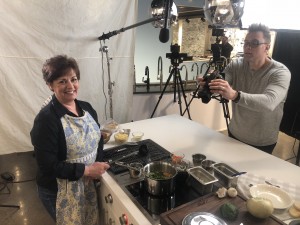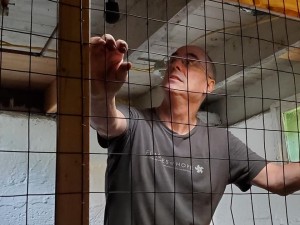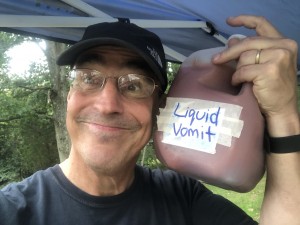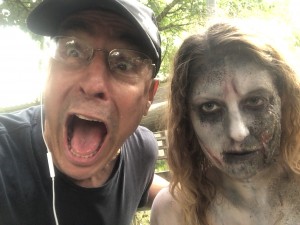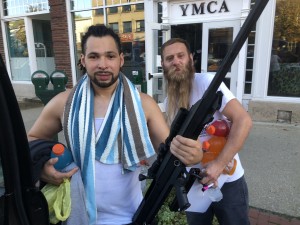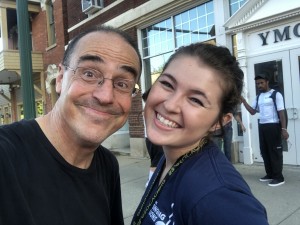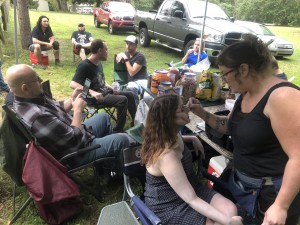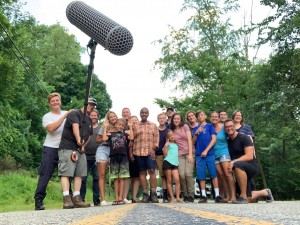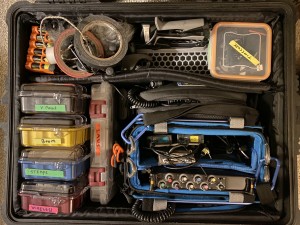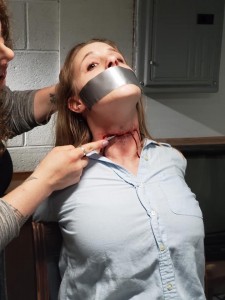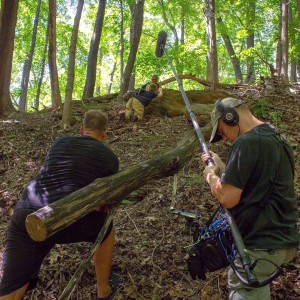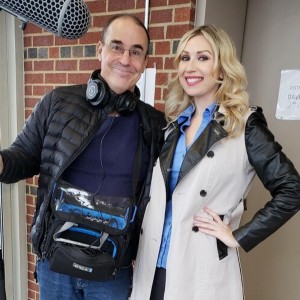 ---
Why I think I make a pretty good location sound recordist
One of the things I've learned about being a sound recordist is that most novice film makers think that either you have decent sound or you don't.  The truth is that there are degrees of quality in capturing sound.  The key is to have both lavs and a boom mic in play.  You just never know which one will work best or when you'll need the back up file.  The talent might turn away from the boom and the lav will be the best sounding source.  Or, the action in the scene will cause some scratch in the lav and the boom will have you your best sound.  It's good to have redundancy!
Another thing I've learned capturing sound for shorts and commercials is importance of mic placement.  There is a "best place" to put your mics.  With a boom, you want to get the mic as close as possible to the talent.  With lavs, the center of the chest usually works out but much depends on the particular clothing and material the talent is wearing.  placing a lavalier microphone is as much an art as it is a skill.
Just in case I'm not available to capture location sound for your next commercial video, documentary, or narrative film shoot, I recommend that you contact one of the following people:
---
Sound Mixer / Sound Recordist Directory
Just in case I'm not available to capture location sound for your next commercial video, documentary, or narrative film shoot, I've created a list of local location sound recordists that may be able to help you.
If you are a Pittsburgh location sound recordist, boom operator, or sound mixer and would like to be included on this list, please contact me a mray@michaelray.com.  In the email, please include your name, email address, URL (if you have one) and your phone number.
---
Michael Ray Photography
2820 Smallman St.
Pittsburgh, PA 15222
412-232-4444