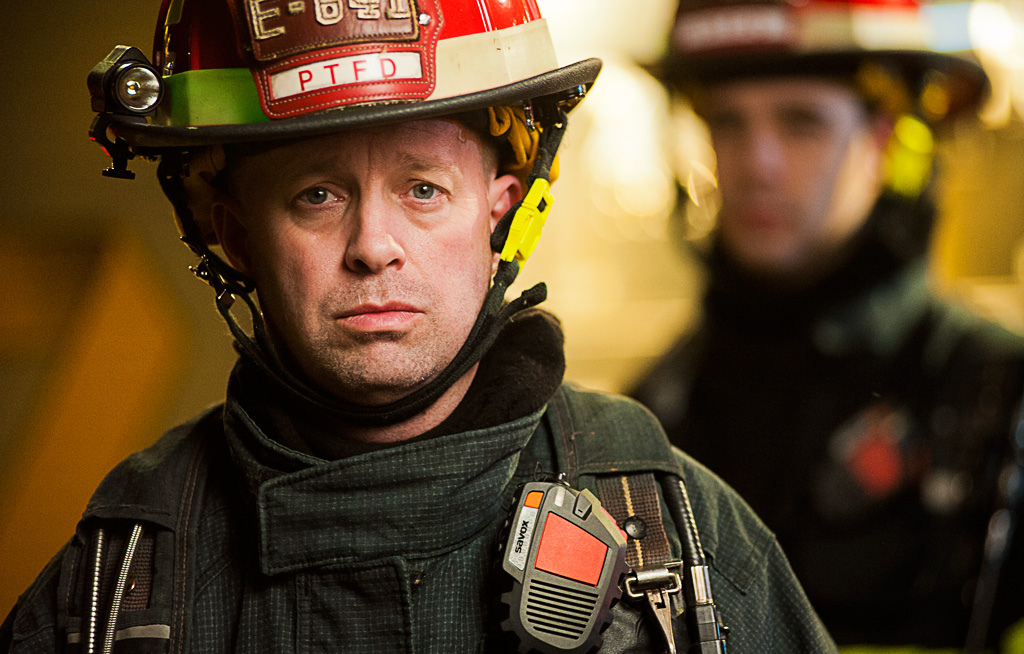 Photographers In Pittsburgh – Savox shoot
Over the years I've photographed quite a few fireman for various local companies like MSA, Industrial Scientific and more recently Dreager, but this is a first time that a marketing person actually flew in from Germany to shoot with me.  Okay, maybe he was coming to work with video / photographers in Pittsburgh to do the shoot with a particular video crew and selected me to do the stills, but hey… :o)
If you look through my commercial photography portfolio page, you'll see quite a few dramatic shots that include fireman and there's probably a reason that these kinds of photo make my portfolio page.  They tend to be pretty dramatic in nature.  Fireman sometimes work at night, which gives us an excuse to use more dramatic lighting and they work in dramatic environments, which usually makes for dramatic photos.  All of this makes for really good portfolio photos.  Take for example the photo above.  This guy, who was a really great model, a cooperative guy, and a real fireman to boot. Fireman tend to really like their jobs and are usually willing to go that extra mile to help us photographers in Pittsburgh to come up with some great shots, probably because they want to be helpful and probably because they want us to make them and their profession seem a little more important.  And that's totally understandable.  What they do IS really important.
This shoot was for Savox and they make the communication device attached to the front of the fireman in the picture.  What's nice about these kinds of photos is that you need to show the product, but it doesn't have to be studio lit.  Just so it shows.  Of course the better it shows, the happier the client is with the photo, but there is a point where the feeling of the photo is diminished and less realistic, and therefore less believable.  And that's not good.  So, the client tends to let the photographer play a little more then usual, and get some really cool stuff.
Another thing that was very fortunate about shooting this product was that the position / placement of the product was near the foreman's face and the fireman doesn't need to be wearing all his garb to make this a realistic shot.  It's nice to see the model's eyes in the photo. It always makes things more dramatic and personal.
So what makes this photo so compelling?  If you're one of the many photographers in Pittsburgh and you're looking to improve your craft, that's a question you need to keep asking yourself.
Low light photography and the use of ambient light
Photographers in Pittsburgh and around the world rejoiced a few years back with the launch of a new generation on DSLR cameras that made an amazing jump in low light sensitivity.  The older generation cameras used to start showing noise (grain) at around ISO 400, and now, photographers routinely shoot at ISO 2500 or more.  This allows photographers to shoot in much lower light than they used to, and still get great quality images.  Isn't technology wonderful?  In this particular photo, I was able to easily blend the ambient lights of the truck with my LED lights to get desired shot to produce drama and readability.
Limited depth of field
I love to limit the depth of field in my photos.  The results just make everything a little more romantic…
The model selection
We were photographing real fireman and had our choice from the four volunteers and I choose this guy.  First off, he had a good look and was interested in helping out. I think he was perfect for this shot.  He had a real, but rugged look.  He wasn't too old or too young.  He was perfect.
The color palette
When you think of fireman, you thing of fire and warm.  So browns, yellows, oranges and reds help to tell the story of the photo and I think that adds a lot to the final image…
The Lighting
I lit this with a 1000w Dracast LED light into a shoot-through umbrella, about 5 feet away.  The light was filtered with a full CTO to take it from daylight balance to tungsten (3200 K).  This allowed me to get a little closer to the color temperature of the lights of the fire engine.  I wanted them to go a little warm, but not too much so.  The effect of the umbrella was perfect.  I didn't use any fill light and the light ration was still perfect IMHO…  The guy in the back was lit more by the truck then me, and it worked out perfectly.
A little help in post-production
I've been playing, maybe too much with post-production.  While I didn't HDR this image, I dud use something called a "high pass" filter to give it a little edgy look…
Special thanks to for the great cooperation we got from the Peters Township Fire Department for a VERY LONG 17-hr. shoot-day.  You guys did a great Job!