Theatrical Headshots for Actress Delaney Shaye
As a sound man for independent movies, I've worked with Delaney many times over the past couple of years.  I've always found her quite talented as an actress and a lot of fun to work with.  So when she approached me to shoot her headshot, I was very pleased and eager to accept the project.
If you've been reading some of my latest posts, you've seen me working on a specific style for my theatrical headshots.  I've been going for a dark and moody look, where lighting is the biggest issue of the photo.  Yes, I know, there are a lot of other things that make up a good headshot.  Besides lighting, there is the pose, the makeup job,  the expression, the environment, and many other things too.  The thing is, it's always been the lighting that I value most.  Seldom do I look at a headshot and say "wow, look at that pose".  If I notice a headshot, it's usually because of a striking face, which is something the photographer can't control, or it's the lighting.
My headshot photography is usually planned out beforehand
As you can see, we walked away with at least four really sweet headshots.  The reason we were able to do that is because I knew the types of shots I wanted to do and I had the lighting setup before Delaney arrived for the shoot.  I had studied my "Swipe File" and knew then things I wanted to play with.  I told Delaney going into the shoot, that we were going to do some experimenting.  And that's what you have to do if you don't want all your headshots to start looking the same.  The style that I'm trying to develop is based on having the photo look "low key" and "serious" expressions. That means that I don't use much light on the background, but at the same time, I make sure that the subject doesn't blend into the background by using a very subtle backlight or hair light on the subject.  The problem most novice photographers make when trying to use dark backgrounds is that they don't bother to light the subject and background so that they separate from one another.  In most low-key novice headshots, the subject fades into the background and you can't see where one begins and the other ends.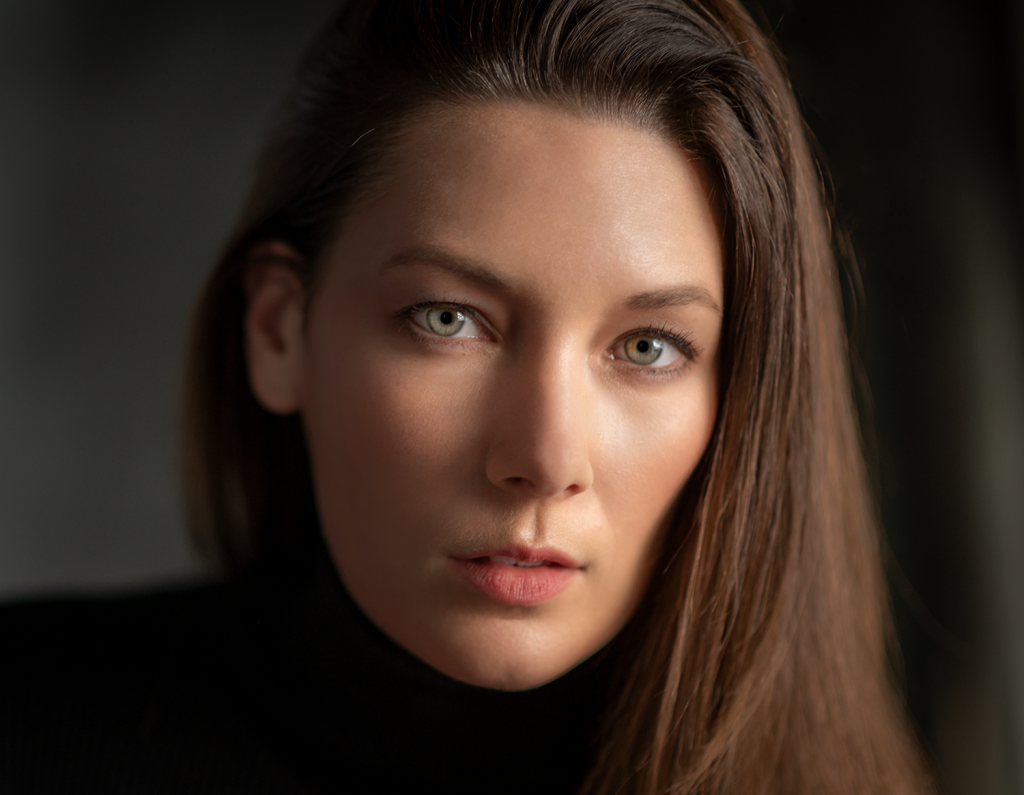 Headshot swipe file idea #1
One of the things I was attracted to in my swipe file images was when the subject had all her hair on one side of her head.  The shot above is the result of me playing with that idea. The funny thing is that I've never seen Delaney with her hair like that.  I see her usually wearing it parted in the middle, with almost no hair tucked behind her ears.  I think she looks great like this.
Another thing I played with is the way the lips were parted.  Sometimes this works and sometimes it doesn't.  I think it worked pretty well here.  I think it adds a bit of sensual appeal.  The lack of a smile helps too.
---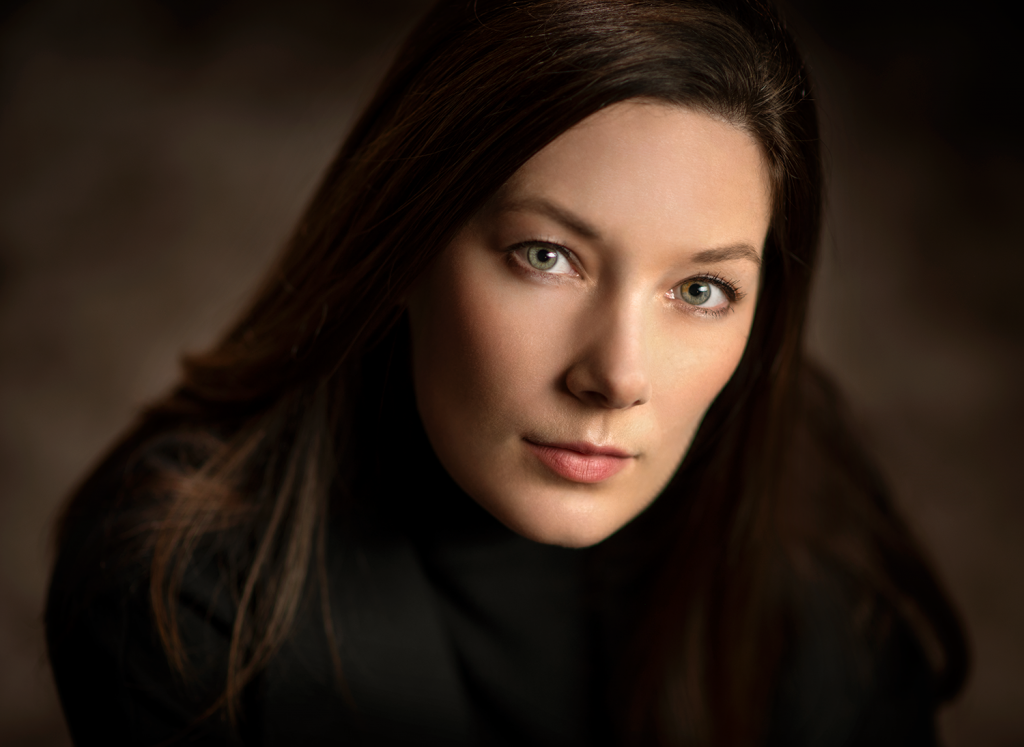 Headshot swipe file idea #2
Another idea I got from my swipe images, is the "shooting down" angle idea.  I've done this many times before but I wanted to try it again.  Even though I love this shot, it really didn't turn out like I thought it would, and I'm not really sure why. I don't know if it's the lens I used or the fact that her tip is so dark in color.  I guess I need to do some more experimenting, probably with a longer lens or maybe with a bit more depth-of-field.  Again, notice how everything is dark and it still separates. That's the key…
---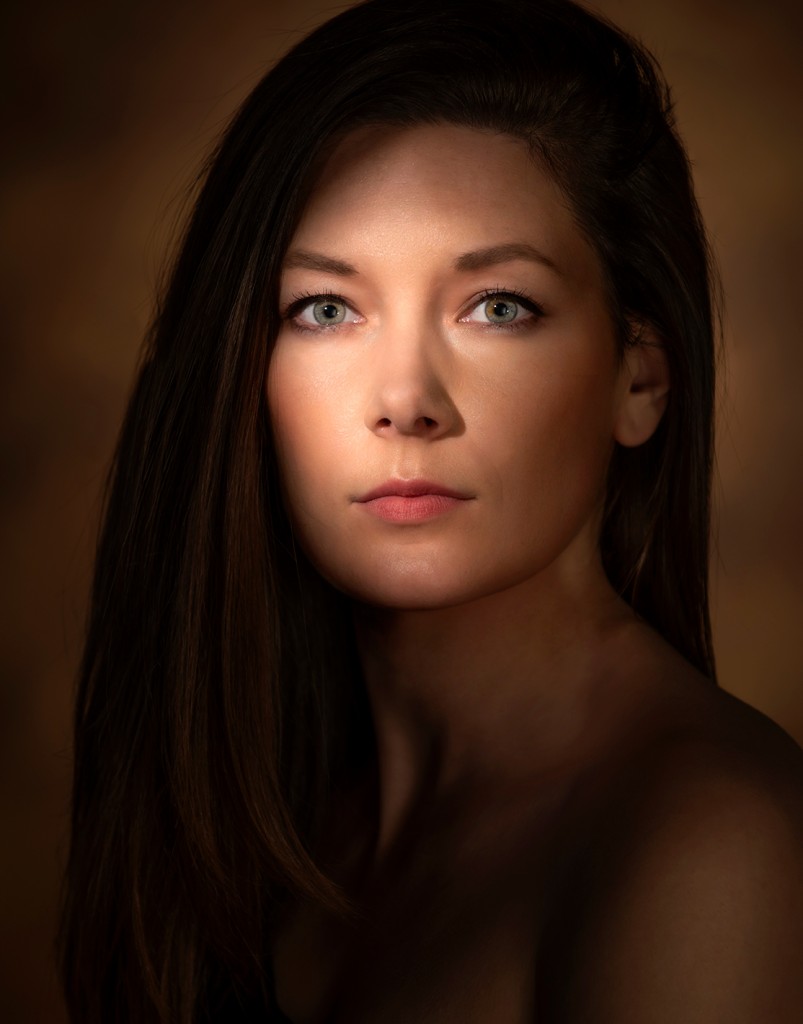 Headshot swipe file idea #3
This lighting technique was probably the biggest experiment of the shoot.   I have a light fixture that I've had for a long long time.  It's called a Norman Trilight.  It's a flash, but it's also kind of light a slide projector.  I believe it's considered an "optical spotlight".  What's great about it is that you can focus the light exactly where you want it.  Here is a recent headshot where I used this light. Check out this post and look at the shot I did on the white background.  That's using the Trilight with no fill light.  While checking out images on Pintrest, I came across a headshot where the photographers seemed to use an optical spotlight but also used a fill light.  Notice in my shot on the white background, the optical spotlight lights her face only in certain places, but where it isn't lit by that light, it goes totally black. I really like this look but I was intrigued by the swipe image that was using just a little fill.  With this photo of Delaney, using just a little fill light, you can see her shoulders.  When I first processed this photo, I wasn't totally thrilled with the look, but now everyone I show it to, totally flips over it.  Even my wife said it was stunning, and believe me, that's a lot coming from my wife.
---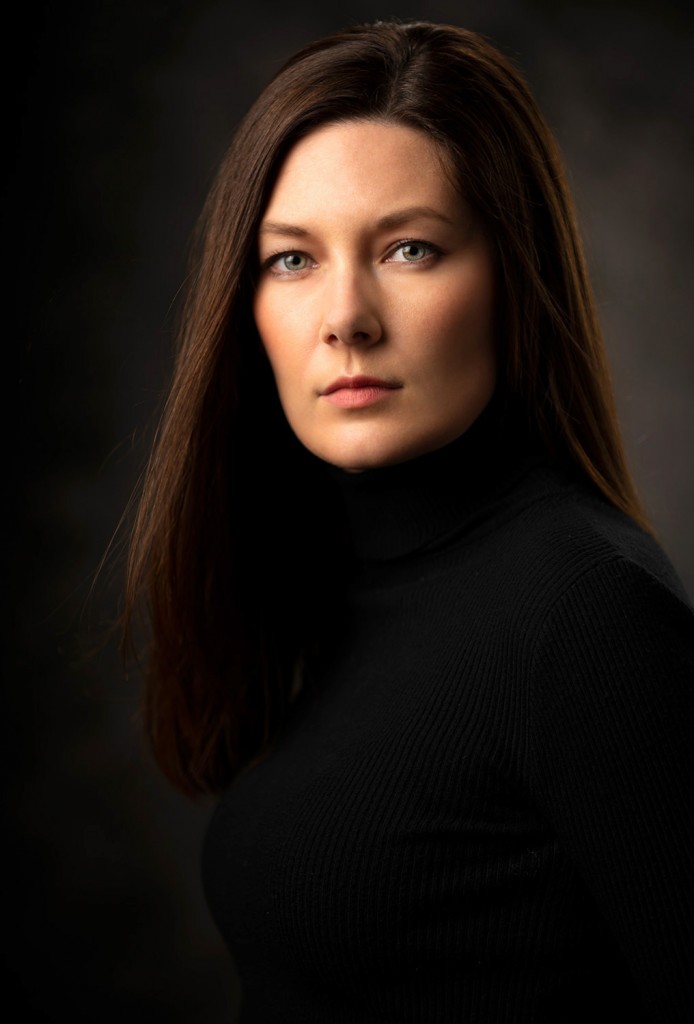 This shot wasn't really an experiment on an idea from my swipe files.  I realize that it's too easy to crop tight on a subject and this is my attempt to practice composing a little looser than I'm usually comfortable with.  While I think the photo is great, it's not really because of my compositional prowess, it's more due to the beauty of the subject.  It's difficult to pose a subject's arms and legs and still get an interesting composition.  In that regard, I guess this experiment was a bit of a failure.
---
Headshot swipe file idea fail #1
Like I mentioned above. I like to experiment.  I see something I like and I try to emulate it or hopefully improve on it, and most of the time things work out pretty well, but sometimes they don't…
While looking through my swipe files, I kept coming back to a couple of photos where the subject's hair was in front of the face, but yet the eyes jumped out.  I thought was worth trying with Delaney and we gave it a go.  She was a great sport and we tried and tried and still, we couldn't get anything I liked.   It wasn't her fault.  I need to give this some more thought.  I'm going to try to have the subject on the ground looking up at the camera next time.  I think that will be much more controllable.  Live and learn.
---
BTS Photos
Here are a few behind-the-scenes (BTS) photos I took during the shoot.  I bought a new GoPro a few weeks ago and thought I'd try putting it to use as a behind-the-scenes photographer.  Here's how I make the GoPro do the work for me.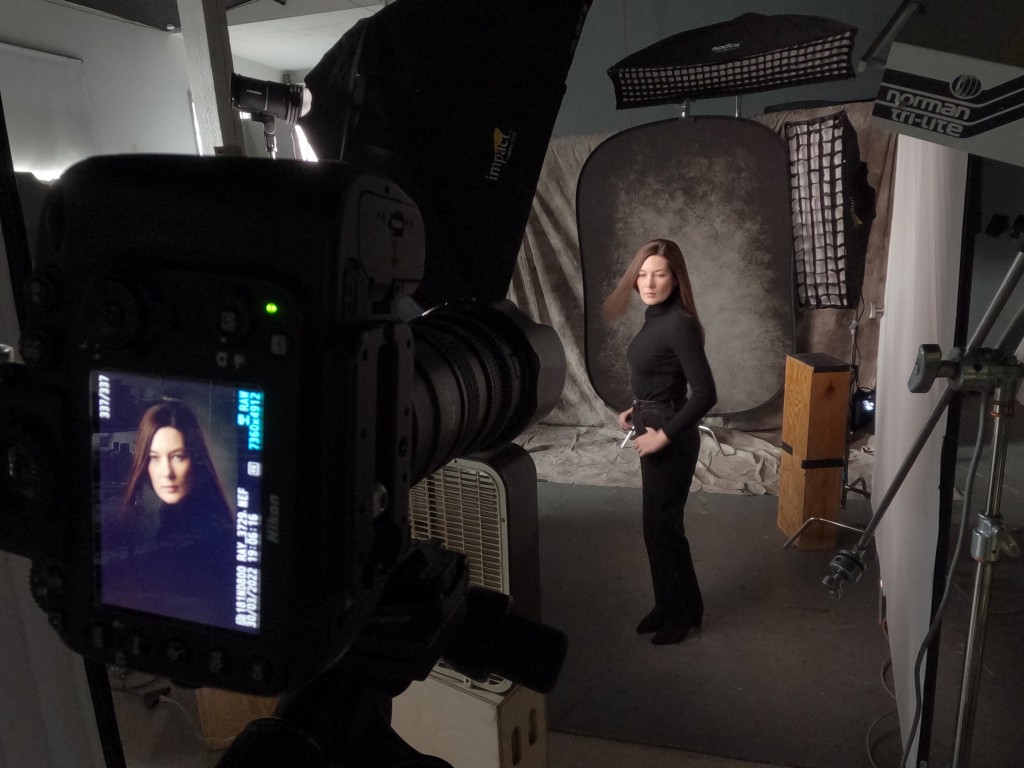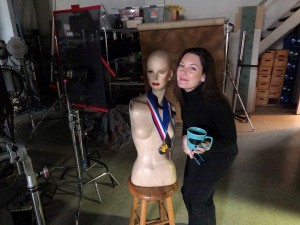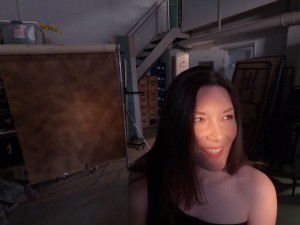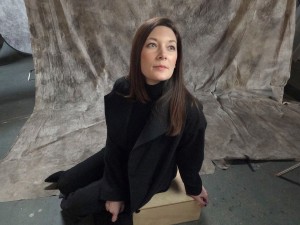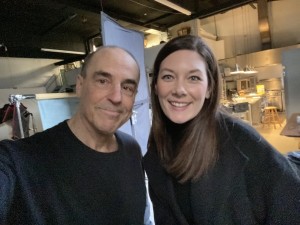 So… If you think you're in need of a new headshot and you like what you see here, please reach out so we can talk about what you're looking for.  I love shooting people's headshots.  There are so many interesting people, especially in the acting business.  You can reach me by email or by phone at 412-418-2838.