Drone Photography in Pittsburgh
A year and a half ago, I got my first drone as a gift from a good friend of mine, for Christmas.  To be honest, at first, the drone intimidated me.  What if I crashed it?  What if I flew it into the river?  What if it just decided to keep on flying away to who knows where?  Every time I flew it, those are the kind of things that went through my mind.  Now after many many flights, I've become much more comfortable and confident with my drone photography skills.  I have my second drone now, which is much more expensive than my first one, and it has a higher quality camera and quite a few more sophisticated capabilities.  The new drone has a bunch of automated flight modes that make it easier to capture buttery-smooth footage and tack-sharp still photos.  It's a dream to fly and the low-light capabilities are quite impressive.
Getting My Drone License
Not everyone knows this, but to fly a drone for any commercial purpose, you need to have a part 107 Faa License.  YouTube is full of stories of people getting quite hefty fines from the Faa.  Those FAA guys take drone flying very seriously.
To get the license, you have to pass a sixty-question, multiple-choice test, given at the local airport.  I studied extensively online and did quite well on the test.  I was a little intimidated since this is really the first test I've taken since art school.  The subjects covered on the test included airspace, all the drone-specific laws, weather-related questions, and tons of other subjects too.  You just can't walk into a text, without studying, expecting to pass.
If you're looking to hire a drone photographer, make sure that the pilot has is Part-107 license, or if you have someone on staff that has a drone and says he can do some photography for you, please be careful that the FAA doesn't find out…
---
Drone Videography
Even though I've been getting more and more into shooting video, at heart, I'm a still photographer.  That's where I'm most comfortable.  Having said that, I'm pretty well established in the local indie film community, and that's where I shoot some of my first videos. Here's a link to my most recent "Drone Reel", so you can check out some of my work.  I'll try to remember to update this link when I update my reel. I've also done drone videos for a local contractor at a construction site.
Uses for Drone Videography
Drone Video for short films – As I mentioned above, at the time I'm writing this, I've drone videos for three different, local, indie films.  Local filmmakers are always interested in having access to drone pilots, and for the drone videographer, these types of shoots can be the most challenging.  On my very first video, I was asked to video a car pulling up to a house.  That sounds pretty simple, but the filmmaker wanted to have me drop altitude and pan up at the same time, dodging telephone lines, timing the car's arrival, and keeping the car in the middle of the frame.  Since, at the time, I only had my drone for a short time, it was a tough challenge.  Now, especially with my new drone, it would be much easier.
Corporate videos –  I've shot drone videos for construction clients, but so far, that's been about it.  Most of the time, construction people want video footage from all sides of their site, so flying a circle around this building is common.  I will also supply a "fly-by" of the important sides of the building.  They also like "directly above" flyover videos.
I'm looking forward to doing more cinematic corporate video shoots, but so far, I haven't done anything that I've been paid for.  I am working on putting together a "Pittsburgh City Reel", where the footage would be available for stock purchase.
---
Drone Still Photography
There are a bunch of uses for far having a camera in the sky, especially if it's being used by someone that already has a detailed understanding of exposure, lighting and composition.  You know how some people can make amazing pictures, no matter what the conditions, while others can't?  It's the same with drone photography.  If you give a talented professional photographer a drone, you can depend on him to supply you with high-quality photography, while if you give the same drone to someone that isn't an experienced commercial photographer, you're far less likely to see comparable results.
Uses for Drone Photography
Architectural Drone Photography – Architects aren't the only companies to use photos of buildings.  Most companies will need photos of their building on their website, their brochures, and pretty much on any of their promotional materials or social media posts.  A drone allows the photographer to get up over parking lots full of cars and also allows additional interesting photographic angles.  All the general rules of Architectural photography still apply.  You still need a keep eye on lighting and composition, but "getting high", sure has its benefits.
Construction Drone Photography – My first client for drone photography was a construction company.  The wanted construction-site progress photos.  Once a month I went out and documented the state of the building construction.  I did still photos, showing all sides of the building and then I did a video going all around the site.  I have to admit, it was a great training ground for my drone pilot skills.  The photos aren't all that aesthetically appealing, but they show the construction people what they need to know.  And at the time, I just needed the practice.  To be honest, I would love to have more of these clients. I really enjoy this kind of work.  It's just fun to fly and shoot.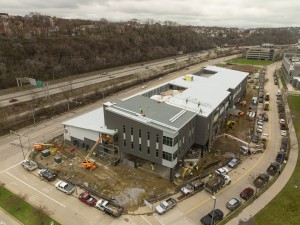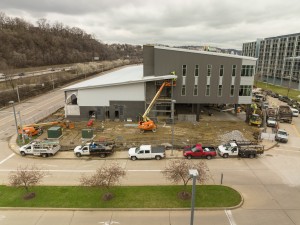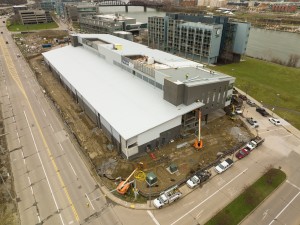 Real Estate Drone Photography –  I've never actually done any real estate photography as of me writing this.  I don't actually know if what I need to charge will fit with the market, but if I get an opportunity, I'm going to give it a try.
Other Markets for Drone Photography
From what I hear, there are plenty of other markets for drone photography and video.  It's much less expensive to do inspections of roofs or cell towers from a drone, rather than sending people up to do the same work.  I can also see other creatives coming up with various uses for aerial photos or videos.  What about golf courses doing videos of each hole, from the tee to the flag?  Could be an interesting addition to the webpage…
---
Why I think I'm better than many Drone Photographers
I guess the main reason that I think I'm probably a better drone photographer than most other drone pilots is because of my experience as a commercial photographer.  I've been a successful, professional, commercial photographer ever since the "film days".  I understand lighting and composition way more than most pilots and even most photographers.  While I'm not super experienced with drones, they're basically cameras in the sky, and I know cameras.  The bottom line is, that I'm a proven professional photographer and whether the camera is in my hands, on a tripod, or flying in the sky, I can make some pretty nice, usable, and sometimes beautiful photos. I guess you'll have to be the final judge of just how good a drone photographer I currently am, but don't totally judge my photos here on the page.  You might be finding this post long after I've made vast improvements.  I'll post a link to the DRONE section of my website so that you can check out any new footage or still photos that may have come along after this page was posted.
---
If you think you might be in need of some drone photography
If you think you might be in need of pretty much any type of commercial photography, and you figure some aerial drone photography might need to be part of that same project, I'd love to speak with you.  If you just need some drone footage or stills shot from the sky, I'm your guy.  You can reach me by calling my cell at 412-418-2838 or by emailing me at mray@michaelray.com. I'm at your service.