Pittsburgh Portrait Photographer
---
Types of Portraits
I've been a Pittsburgh Portrait Photographer since the 1980s and I'm even sometimes confused about all the different types of portraits and what each type means to different people.  Rarely do I shoot for non-commercial clients.  Mostly, it's for all types of companies, corporations and various publications, including national magazines and newspapers. I've photographed executives from fortune 500 corporations, local chefs, a few politicians, actors, professional sports stars, and various other "common folk".    While there may be a few subtle differences between the various types of portrait photography, basically people are people are the same no matter where you go and who they are.
What's confused me over the years, is what people refer when they talk about different types of portraits.  Let me list a few of the different names of portrait photography and give examples of what each different type of portrait means to me.
BTW – Many people will use the word headshot instead of portrait, and to me, there isn't a whole lot of difference.  To me, the words portrait and headshot are interchangeable.
All the portraits you see here on this page were taken by me either here in Pittsburgh or near here for various clients. It's not unusual for magazines to call as ask for me to photograph people that live here so that they don't need to fly some other portrait photographer in from out of town.  If you'd like to see more of Photography, please visit my Pittsburgh Portrait Photography Gallery and if you'd like to see my Model and Actor Headshots, you can visit my PghPeople site.
---
Business Portrait
What gave me the idea for creating this article is that I just finished a portrait shoot for Pittsburgh Magazine and I wanted to share some of those headshots and figured that this is a good way to do it.  This is a project I've worked on for the last four of five years.  The job consists of doing business portraits of Financial Planners in the area.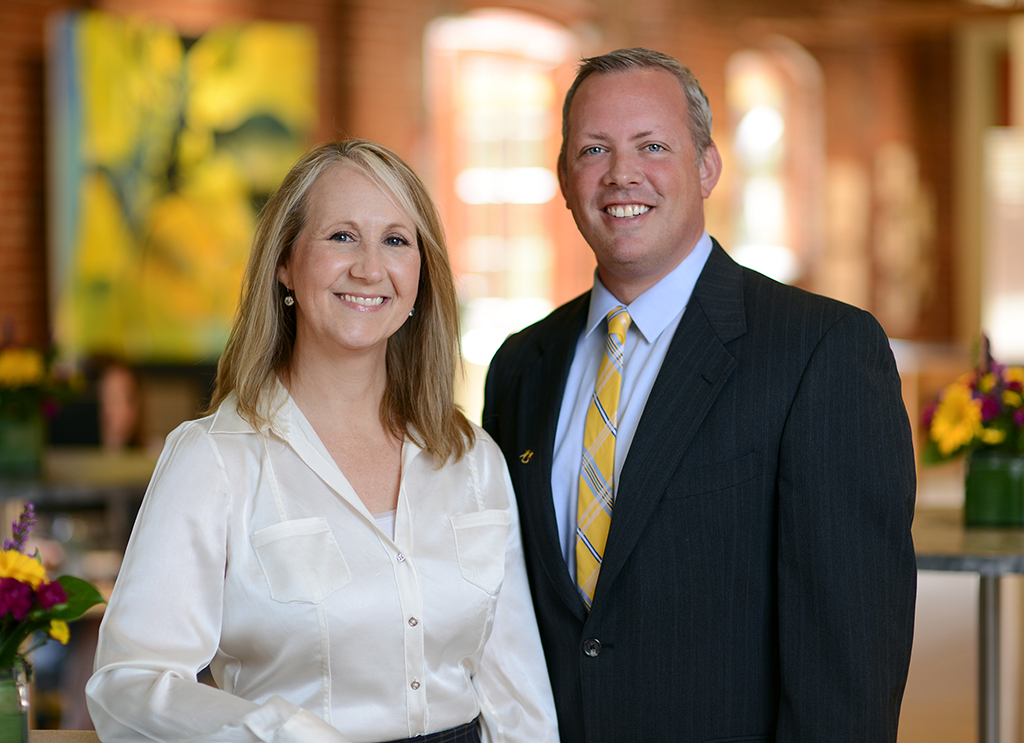 I consider a business portrait as being a photo of either an individual or a group of people that work for some type of business.  Usually, if it's an individual, the portrait is usually of a white-collared employee, pretty high up the company's pecking order.
Business portraits are needed for Anual Reports, the company web page, social media profiles, or pretty much any business, public relations, or marketing needs.  These photos can be taken either on location or in the studio and sometimes I'll even be asked to take photos with a studio background and then in an environment, all in one visit.
Here are a few resources and tips on how to create better business portraits, including what to wear.
---
Executive Portrait
When I think of Executive portraits, I imagine "upper management" types in an environment that represent their business.  Usually, it's old guys in suits and the photos usually end up in Annual Reposts.  Executive Portraits usually tend to be more formal in nature, maybe with less of a smile than in other types of commercial portraits.
These types of portraits need to project confidence to the viewers and therefore tend to be more serious in nature.  The image of "Majestic" is another goal for the Executive Portrait Photographer.  This is mostly because these people are in charge of the corporations and deal with the health and welfare of the company and also the stockholder's money.
---
Editorial Portrait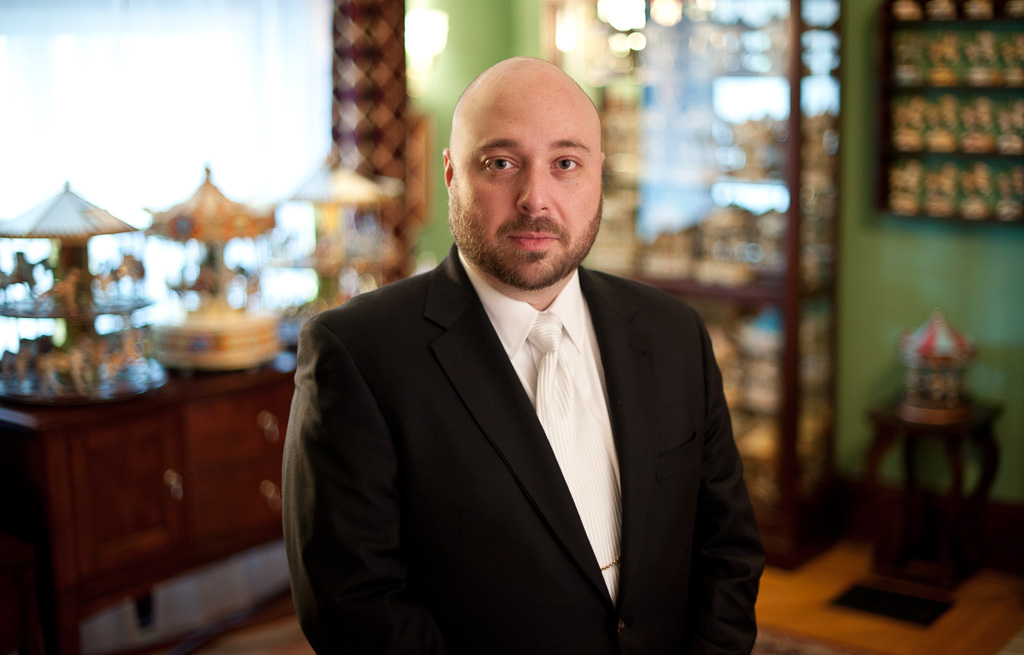 Editorial Portraits are usually photographed for magazines or newspapers.  These types of portraits are very seldom on a studio-type background and normally shot in an environment that helps tell a story related to the subject of the portrait.  In most instances, a magazine has written a story about an individual and then the portrait photographer is hired to photograph that person while keeping in mind the editorial content of the article.  This type of portrait photography requires a lot of creativity because the background of the portrait needs to have meaning whereas, in most of the other types of portraiture, the background just has to be pleasing to the viewer.
---
Corporate Portrait
The term corporate is one that refers to employees of a company or corporation, usually mid-management.  They can be either formal or casual in dress and expression.  They can be taken in a business environment or shot on a studio-type background.
---
Employee Portrait
To me, employee portraits are photos of the rank-and-file of the business.  They aren't "name badge" type photos, but they usually need to be taken rather quickly to lessen the expense of the photo shoot.  Companies have been firing portrait photographers more and more often lately in order to photograph their employees so that all the photos have a similar look for social media use.  This helps to control the "brand" of the business and projects a consistent look for the company.  Here are a few tips on taking better employee portraits.
---
Advertising Portrait
An advertising portrait is taken for use in a specific ad and that photo must support the copy of the advertisement.  Advertising Portrait Photos are much the same as Editorial Portraits.  They need to tell a story. The backgrounds need to either help tell that story or they need to be so subtle that the viewer's attention totally dismisses them.  Many Advertising Portraits have dramatic lighting and simple backgrounds so that the eyes of the subject becomes the focal point of the photo.  I tend to think of simple portrait where the subject is looking straight at the camera, communicating directly with the viewer of the ad.
---
Commercial Portrait
The term Commercial Portrait is one of those that covers a wide array of portrait types. Any portrait, of an individual or a group, can be thought of as a Corporate Portrait.  Usually, I think of a shot that is casual but still has the subject dressed in business attire. Maybe the subject's sleeves are rolled and he or she is sitting at their desk or in their cubical. On the other hand, this portrait could be the principles of a  mom and pop business for the new web page or company Facebook page.  The term Commercial Portrait can be the same as the terms Business Portrait or even or Employee Portrait.  Not all commercial portraits are taken on location either.  Many are shot in a portrait photography studio or the studio is ofter taken on location to the company in order to reduce the downtime for the subjects.
Another side note… If you're wondering what you should wear for your portrait, here are a list of pages where you can get different opinions on the subject. What to wear
I sort of think it's funny, but 99% of the women I photograph, wear black.  I think there might of been a show on Opera devoted to the subject… :o)
---
Family Portrait
I rarely shoot family portraits, so I'm not too up to date with all the terminology involved in this market.  I shoot almost exclusively for marketing and commercial purposes and for corporations and smaller companies.  When I do get around to photographing MY family members, I usually try out new or unusual photographic techniques or some kind.  Usually, I've seen a "look" I like and then try to figure out how to created that kind of portrait.  I really enjoy this type of portrait photography, but in all honesty, don't get around to it as often as I'd like…
---
Professional Portrait
Professional Portraiture is a catch-all term that refers to portraits taken by a portrait photographer that does photography for a living.  Most companies shy away from non-professional portrait photographers unless that company is really tight on working capital.  They usually prefer to work with professionals to assure that the photos taken are of the highest quality possible.  The Company image and brand are at stake, so why skimp to save a couple hundred bucks when the company's reputation and public image is at stake.
---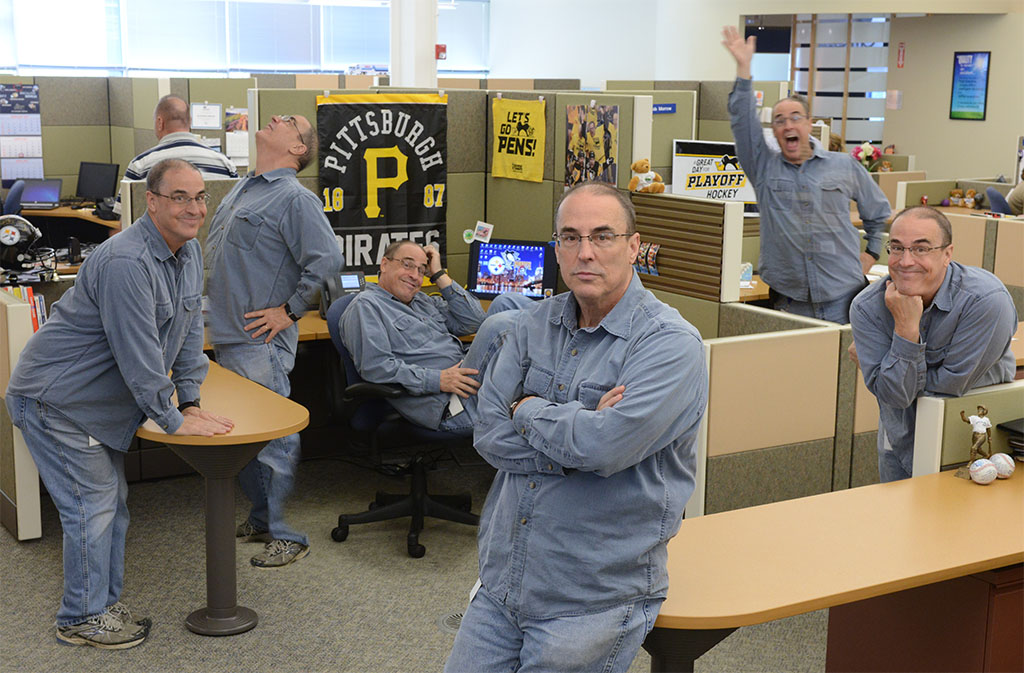 In case you don't personally know who I am, this is me standing in for a group photo I was setting up to shoot.  As you can tell, I'm easily entertained.
So there you have it, my understanding of what all the Pittsburgh Portrait Photographer terms mean to me.  There is no authoritative resource to dictate the definitive meanings of these terms, but hopefully, this will give you a feel for what they mean to the majority of people out there.
---
Michael Ray Photography
2820 Smallman Street
Pittsburgh, PA. 15222
412-232-4444