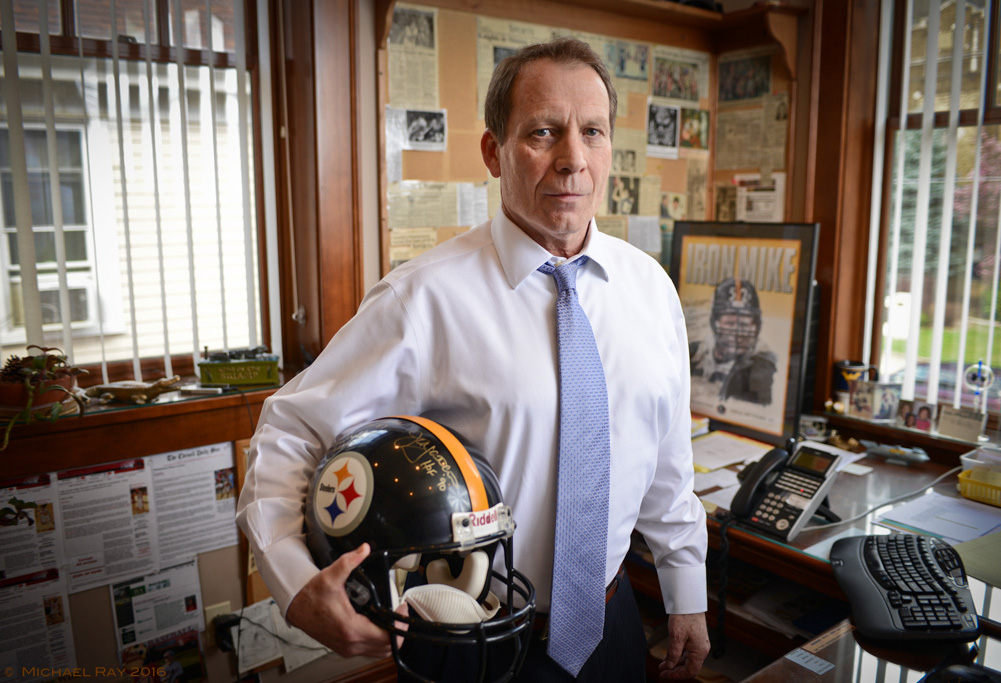 Editorial Portrait Photography Thought Process
I was recently hired by a trade magazine to photography a lawyer that was involved with a case against the NFL, having to do with Mike Webster, the deceased Pittsburgh Steeler, and the concussion problem facing the National Football League.  The challenge of the assignment was to illustrate as much information into a powerful portrait, as possible.  Here are the elements I used as a portrait photographer, to help convey the feel and mood of the the article.
Expression – The mood of the photo was not conducive to having the  smile.  The theme of the article was serious, and so needed to be the expression of the subject of the photo.  It just wouldn't look right to have the lawyer with a big grin on his face.
Lighting – Since the portrait subject is a guy, and also because the mood is a serious one, the lighting needed to be a bit dramatic.  I couldn't let the background go too dark, because the props and environment contained clues related to the copy of the article, but I wanted to create as much "mood" as possible.
Environment – The environment of these two portraits was important.  They illustrated the work area of the lawyer and helped give a feel of the man.  I moved a few of the background elements around to strategically locate a few props to better show the ideas related to the article.
I love shooting editorial portraits and I've been getting more and more of that kind of photography assignments.  Thant's fine with me and I hope the trend continues.